It's no surprise that the 2020 Senate elections are going to be heated. As of now, the GOP has majority control of the Senate. Coming into a year in which we don't know who the future president will be, controlling your Senate majority becomes an upmost priority. If Trump lost the general election, and the GOP lost senate majority, it would be open season for he Democrats. Which is why Senate Majority Leader Mitch McConnell has been so active in the media of late. With every seat meaning so much, it's surprising to see that the GOP is not going into the closet of Senator Dick Durbin to drag a few of his skeletons back out.
Senator Dick Durbin is, according to analysts, essentially safe in this election as an incumbent. He has been a senator since 1997. This would be his 5th term. He won't be campaigning too hard, he'll likely spend most of his time endorsing other democratic candidates in the swing elections.
I'm not sure why people like Dick Durbin get labeled as "safe incumbents" after 2-3 terms and everyone just accepts that. I'm not even a Trump supporter but I'll say it, Durbin is an easy target for Trump and the GOP. They could annihilate him and take that seat.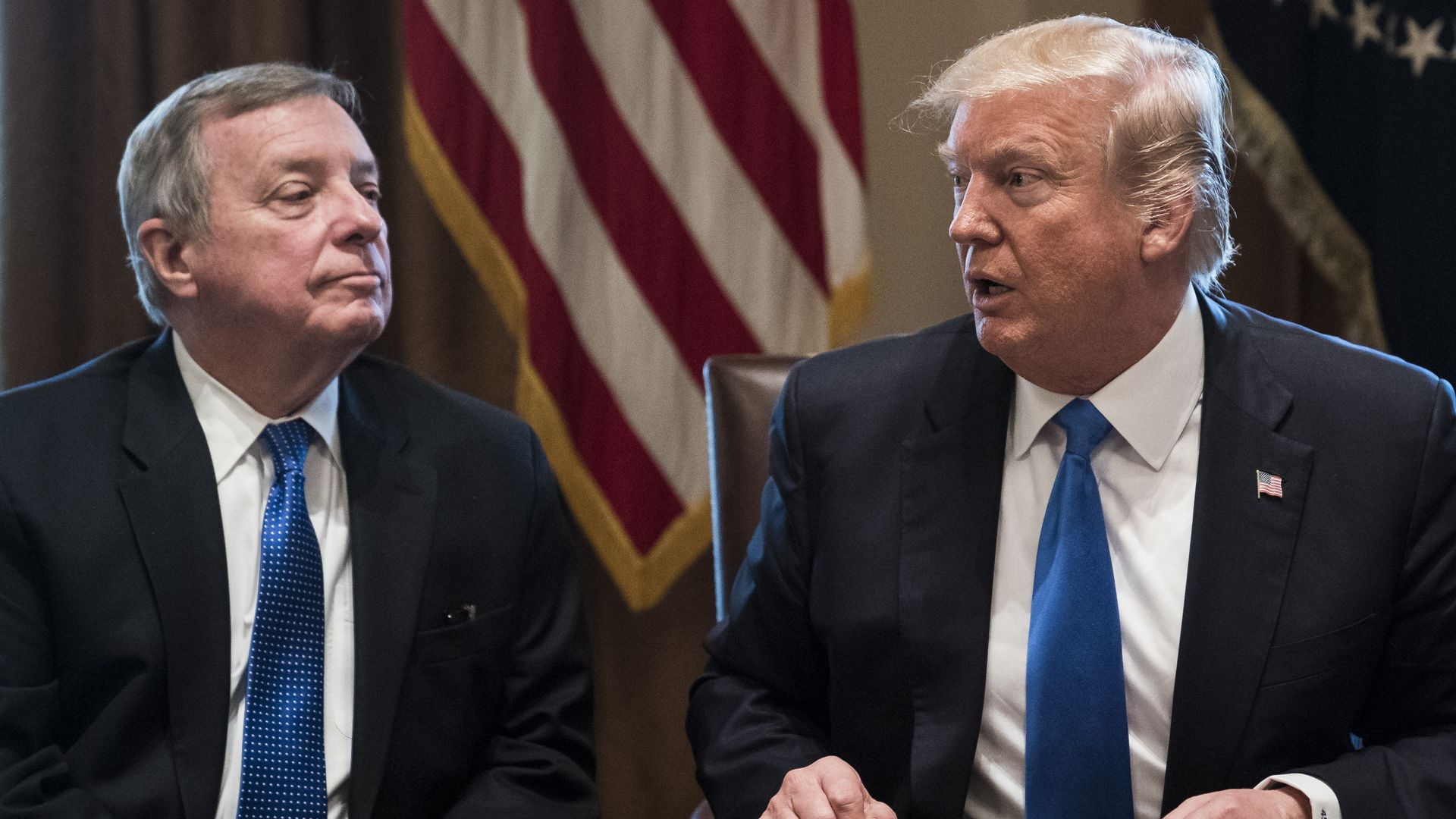 Like I said I'm not the biggest Trump guy (if it's him or Biden though who knows), but I also don't like any politicians with a sloppy past. That's why I like people like Bernie. And why even as a democrat I could never vote for Hillary Clinton. She flip-flopped on every issue multiple times in her career. How can you trust that?
Same applies to Dick Durbin. And there are many ways that the GOP could have Senator Dick Durbin lose this election if the Democrats get to comfortable.
Bring Back "Drain The Swamp" Hype
Off the bat if the Trump administrations main goal is to "drain the swamp", Trump could easily put Durbin on blast and paint him as the epitome of why we need to drain the swamp. And whether it's true or not, it would work. In office since 1997, old, and he is the official Minority Whip in the Senate.
In case you are unfamiliar with the title "Minority Whip", here is the definition from the Official Senate Website –
"Assistants to the floor leaders who are also elected by their party conferences. The majority and minority whips (and their assistants) are responsible for mobilizing votes within their parties on major issues. In the absence of a party floor leader, the whip often serves as acting floor leader."
So basically they are sort of the VP for the floor leader. Except they don't take over the responsibility when the guy dies, they take over the responsibility of anytime he isn't in the room.
"responsible for mobilizing votes within their parties on major issues."
Definition of a cog in the wheel. When the leader isn't available, Dick Durbin takes over and his only job is to push the agenda of the party and collect votes for said agenda. He is not a man of opinion. A "component of the swamp" as the Trump administration would say.
Recent Uptick In Low-Income/Minority Compassion
Senator Dick Durbin has recently taken a big interest in Coronavirus pandemic awareness as well as making sure funds are being given to low-income families. Ideally, this is just a noble move on his part. But unfortunately it is likely that he made sure his name was such a big part of both the Unemployment and Telehealth bills in Illinois.
As a democratic senator in Illinois, moves like this make him favorable to low income communities inside and outside of Chicago.
The Scandal
The silver bullet of course would be the article written by the Chicago Tribune. It pertains to his wife who is a lobbyist and their overlapping interests. It gets deep. You can find that here – Senator Dick Durbin Scandal