The hosts of The Morning Toast are once again in hot water after an extremely insensitive racially driven tweet involving the death of George Floyd. And once again they refuse to acknowledge any wrong doing from their mother. This constant tactic by the Oshry sisters, coupled with their history of racist tweets and the secret connections of their mother, it is clear that the Oshry sisters are Trump supporters who adjust their political views and beliefs on air to pander to NYC women in their mid-20s.
It's not the first time that the mother of Claudia and Jackie Oshry has made negative headlines, but this is the first time that the podcasts hosts are not specifically distancing themselves. Which is concerning. Considering it is obvious that their base would understand apologizing/distancing from their mother's beliefs. Instead, they avoided the topic of their mother completely and discussed black businesses and black movies people should watch. (Yeah Claudia, suggest Django. That'll fix everything).
Pamela Geller is the mother of Claudia and Jackie Oshry. She is self-proclaimed right wing, extremely anti-Muslim, and is an editor at Breitbart.
How It All Started
As the girls and their podcast grew to a degree of fame, unsurprisingly, someone made the connection between the two sisters and Pamela Geller.
Here is what Business Insider revealed about her extremist past-
"Geller is known for being an anti-Muslim activist, far-right political blogger who has contributed to Breitbart News, and the executive director of Stop the Islamization of America (which the Southern Poverty Law Center has classified as a hate group).
Geller was even banned from England in 2013 because of her views. A government spokesman said at the time, "We condemn all those whose behaviours and views run counter to our shared values and will not stand for extremism in any form." – Source
Everyone knows it is not fair to judge someone by the actions of their parents. But it is the way that the sisters handled things that make it all seem a little strange.
"None of the girls have spoken out or denounced their mother's extremist views. In fact, the Oshry sisters have gone to great lengths to conceal their connection to their mother. Family photos including their mother have been stripped from their Instagrams. All past references to her have been removed. The sisters post "family" photos of the four of them, always without their mother." – DailyBeast
To some fans this was enough, to others it was not. If they were truly upset with their mother why wouldn't they specifically address that to their fans? The fact that they only painted the picture that she was out of their lives, without directly addressing her beliefs, led a lot of people to believe she was not actually "cut out", and that the Oshry sisters may be in agreeance with her mothers anti-Muslim beliefs.
Because Claudia and Jackie Oshry did not denounce the beliefs, AOL cancelled their podcast.
"Claudia and Jackie's (@jackieoproblems) YouTube morning show "The Morning Breath" was canceled Thursday by Oath, the company formed after Yahoo and AOL merged. The company issued a statement to The Daily Beast: "The Morning Breath, an Oath social-media show, is being canceled immediately and we have launched an internal investigation and will take other appropriate steps based on the results of the investigation." – Business Insider
So with that, the girls created their own podcast on their own. The Morning Toast. Which was going well for a while. They were back to talking about expensive sweaters and making fun of D-list celebrities. All concerns about their mother's hateful rhetoric seemed to be in the past. All the rumors that the Oshry sisters are Trump supporters and pretend liberals seemed to faze out.
Then Pamela Geller Dropped The Nuke
Pamela Geller dropped an explosive tweet on Friday, 5/29. Twitter has since deactiveted her account but the tweet was as follows-
"George Floyd Didn't Die of Strangulation/Asphyxiation, He Died of Heart Condition Complicated by Intoxicants in His Body"
Obviously I don't think I need to break this down, but in case I do, this tweet is beyond offensive and irrelevant. Like is she implying this wasn't the cops fault? Is she implying that because he may have been drunk (don't even know if thats true) that he deserved to die in the street? I don't know, I can't spend too many brain cells on it.
Point is, after this tweet, followings for the podcast across Facebook, Instagram, etc. plummeted.
When Claudio and Jackie Oshry went back on air there should have been one goal. Tell the American people that thinking that way is unacceptable. And will lead to further hate. Instead they completely ignored the tweet and said they would introduce a new segment where they "shout out black businesses". As if any black business owner would want to be associated with them…
But why would they not denounce the tweet? Especially when it was so inherently wrong?
Simple, their is a bigger goal in mind. And they don't disagree with their mother on anything. They can make money on the side but they know their little empire starts with their mother's anti-Muslim business, and also, they agree with her. So denouncing her tweet would be taking a shot at her platform, a platform that they secretly want to keep growing. Because in the end Oshry sisters are Trump supporters and right-wing. They know they can pretend to be liberal and peppy to their NYC fans, their votes won't change the state from Blue anyway.
Keep that in mind, and let's look at some of the past tweets of Claudia and Jackie Oshry.
Oshry Sister's Past Anti-Obama/Anti-Muslim Tweets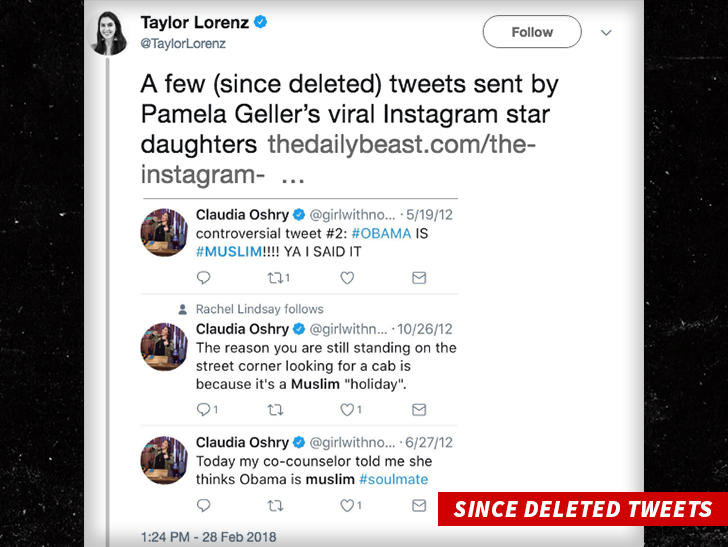 So, what can we conclude?
Aside from Jackie's in depth analysis on her displeasure with Obama's "plan to defeat ISIS" (There were no subway bombings while Obama was president just to clarify), the rest of these tweets are simply calling Obama a Muslim, and from the tone of their tweet it appears to them that is justification enough to hate him.
1. Obama is not Muslim, we all know that (and if he was so what?). But we know that this narrative of him being a Muslim from Kenya was the driving strategy to inspire racism in American voters and help Trump win the election. The Oshry sisters are Trump supporters.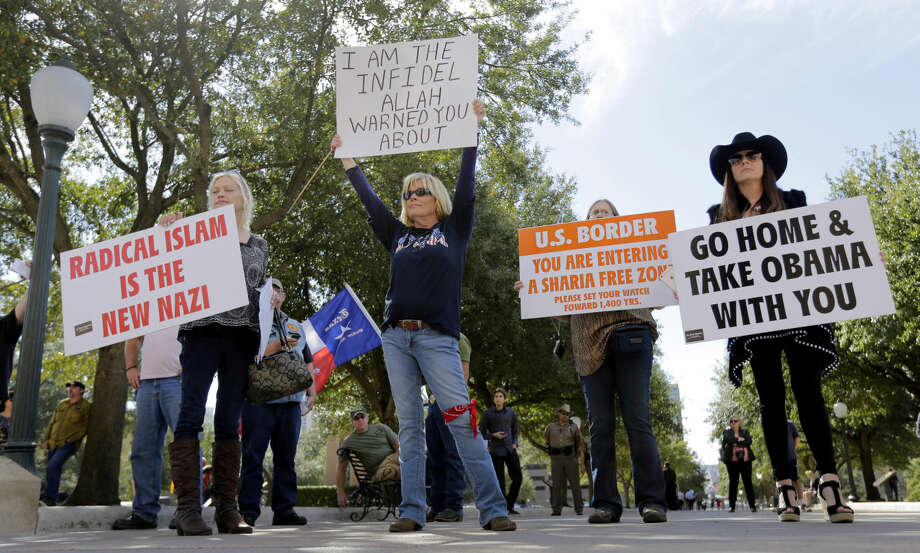 2. Notice how the extreme anti-Obama tweets seem to line up with election year. Interesting.
3. Jackie and Claudia Oshry were going to join their mothers efforts as anti-Muslim political aggrevators. But instead they found out they could pander to NYC and make money that way as well. Now they have to make a choice between the two. By not addressing how disgusting the tweet about George Floyd was, it's pretty obvious which side they have chosen.
Pamela Geller's Empire
"Pam Geller's N.Y. Times profile reveals her enormous wealth including a $4-million divorce settlement, a $5-million life insurance on the death of her ex-husband, Michael Oshry (her married name was Pamela G. Oshry), and a portion of the $2-million sale of the Hewlett Harbor home she jointly owned with Oshry. All of which allows her to live in luxury on an entire floor of upper Eastside condo.
What isn't as well-known, and was whitewashed from her Times profile, is that the basis of her wealth is a criminal enterprise. Michael Oshry, her ex-husband who died of an alleged heart attack in 2008, owned a large Long Island car dealership which operated a scam allowing buyers to purchase cars using fraudulent identities" – Source
Along with this, it is known that she owns estate in Israel. Given her past criminal activity it isn't hard to imagine she has offshore accounts. This 'Morning Toast' was nothing more than a side hustle for the families true goals.
In Conclusion – The Oshry Sisters Are Trump Supporters
And obviously, that's fine. This is a democracy. BUT, what people don't like, is how they are lying about their beliefs to pander to NYC millennials. When in reality they do not share views that are even close to the average New Yorker.
Do you know anyone who believed that Obama was from Kenya or that he was Muslim DIDN'T vote for Trump? Seriously, think about that. A mother who is clearly anti-Muslim, evidence that they are inclined to believe any and all racially driven anti-Obama rumors, and now suddenly that they have a podcast in NYC they are all about equality for all religions and race?
"The easiest way to guess if someone supports Trump? Ask if Obama is a Muslim." – VOX
Come on. Proof is in the pudding. Morning Toast needs to double down and admit they are right wing and anti-Palestine and see if the fans agree with you, or if they have ACTUALLY changed, denouncing their mothers tweets should be no problem. But they have done neither of these things. Because they are trying to play both sides but sooner or later, the fans are going to get sick of the VERY obvious pandering coming from two sisters who clearly are anti-Muslim and VERY pro-Trump.