It's a very confusing thing. A woman who has a career, a marriage, sometimes even kids. But she throws it all away to let some 14 year old kid bang her. Sometimes its a ongoing relationship that lasts for a while, sometimes its over as soon as it starts. No matter what, it's bound to end badly yet teachers seem to do it all the time. Some are extra mind blowing though with how reckless/careless they get over hooking up with a student. Here are the most reckless teachers of all time.
5. Brittany Zamora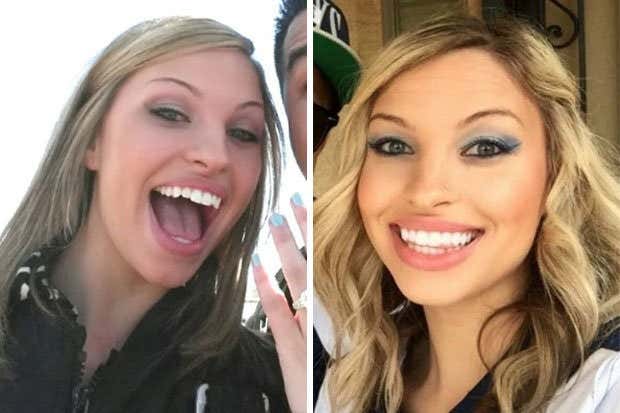 "A West Valley teacher is facing several charges after she was arrested Thursday for alleged sexual misconduct with a 13-year-old student.
Brittany Zamora, a sixth-grade teacher at Las Brisas Academy in Goodyear, appeared in court for the first time Friday. She's facing eight counts of sexual misconduct with a child, two counts of child molestation and one count of transmitting obscene material to a minor.
The allegations against the former "Teacher of the Year" were reported to police by the elementary school's principal. Police said the 13-year-old boy's parent found text messages between Zamora and her son "indicating sexual activity." – Source
13 years old. This woman is 27 and married. Without a doubt one of the most reckless teachers. What could drive someone to be so turned on by a sixth grader that they throw everything away and get as reckless as sending nudes over text.
"An Arizona sixth-grade teacher admitted to having an ongoing sexual relationship with a 13-year-old boy in her class.
Brittany Zamora pleaded guilty to sexual conduct with a minor, molestation of a child and public sexual indecency, according to online court records. …
The victim's stepmother told police that she noticed that the boy was acting suspiciously and wanting to shut his door at night. She said she installed a parental monitoring app called "Sentry" on his phone and subsequently began getting alerts about inappropriate texts, so she confronted the boy. He told his stepmother that he had sexual contact with Zamora, according to the police reports."
"According to court records, Brittany Zamora, a 27-year-old instructor at Las Brisas Academy, sent several sexually-charged texts to the sixth grader.
In one exchange, the boy texted Zamora, saying that he wanted to have sex with her. "I know baby!" she responded, according to court records. "I want you every day with no time limit."
In another exchange, she texted him that "If I could quit my job and [have sex with] you all day long, I would."
MORE: Text message transcript police provided in court documents between teacher 27 YO Brittany Zamora, and 13 YO student in her class. pic.twitter.com/rIqWbh2Rjf

— Stefania Okolie (@StefaniaOnABC13) March 23, 2018
"Police also say Zamora sent the boy naked photos and at least one picture of herself in lingerie.
The sexual relationship soon became more daring.
Police say Zamora played an educational video during one of her classes, according to documents first obtained by the Arizona Republic. While the video played, police say that Zamora and the victim sexually fondled each other in the back of the classroom.
According to police interviews, the victim and his friend stayed after school at Las Brisas Academy one day to prepare for a talent show. When the two boys were alone with Zamora in her classroom, they told police Zamora began kissing the 13-year-old, and asked his friend to stay in the room and be a lookout before they had sex. …
Under the plea agreement, she could spend up to 12 years in prison.
According to online records, Zamora will be sentenced on July 12."
OK that is obviously a lot to unpack. We'll start with this.
She told him over text she would quit her job and bang him all day if she could. WHAT!? This woman actually may have had some serious issues because that is some next level obsession over someone who probably just started using deodorant.
But also, what in the world was she thinking having another sixth grader look out for the two of them so they could have a quickie before the talent show? Was she just drinking this whole time or something? Because say what you want about how weird it is to be into a sixth grader, but to be so reckless like that? It's almost like she wanted to get caught.
4. Shelley Dufresne and Rachel Respess
This one is a two-fer, so I guess it's kind of the 6 most reckless teachers of all time, and this one is kind of a legendary story.
"The teen provided the court with a list of the places where he met Dufresne to have sex, including at her house in Montz, inside her Honda Pilot SUV in multiple parking lots — and in a shed at a friend's house. The torrid romps culminated, the teen testified, with a threesome with another former Destrehan High School English teacher, 26-year-old Rachel Respess, at her apartment in Kenner.
"All three of us were in bed together," the teen told the court. "We all started having sex."
The teen also said he recorded video of Respess while she slept after the threesome and admitted to the court that his genitals could be seen in the footage.
"It was kind of like proof," he testified, adding that he showed the video to some teammates on the high school football team. "I told them about it, but they didn't believe me." – NY Post
The teen had an ongoing relationship with Shelly Dufresne that started since he was 16. They had been hooking up for a while before Shelly somehow got Rachel Respess in the mix of it. Somehow this kid ends up getting picked up after his football game and brought to Shelley's apartment with Rachel as well. He has a threesome with them AND he secretly records it. Most reckless teachers will at least stop that from happening…Like he said, it was for proof and to show off to his teammates. These woman let this kid nut in them and all he even cared about what bragging about it as soon as he could.
"How Shelly and Rachel didn't see that coming is beyond me.
Earlier Tuesday, McElwee suggested that the teen threatened to expose their relationship after she corrected him in class one day.
"At any moment, I can expose this, and you can go to jail, and you'll lose your life as you know it," McElwee claimed the teen threatened.
And the lewd video of Respess, according to McElwee, was an act of revenge for a problem he had in her class a year earlier.
"He told the cop he got payback," McElwee said of the teen, later telling the court he had not faced any consequences for his actions." – NY Post
So on top of it all, the kid ends up being super immature and your career ended the second you gave him that power over you. Mind blowing to think they ever thought it would be worth it.
3. Brianne Altice
"Two years ago Brianne Altice plead guilty to three counts of sex abuse after having sex with three underage students. On Wednesday, the former English teacher from Davis High School in Kaysville, Utah (and mother-of-two) was denied parole.
Altice, now 37, was likely denied parole due to the expectation of her repeating crimes. She was first arrested in 2013 after one of her victims came to the police. After she was arrested and on bail, she was found to have engaged in sexual activities with yet another 17-year-old boy." – Source
Without a doubt Brianne Altice is one of the most reckless teachers. The thing with Brianne Altice, well, the thing that makes her crazy, is the fact that she CANT STOP!
Atfter her first arrest it was revealed she was letting two different teens hit it, they let her go and then she goes and bones a third one! She couldn't help but go back for more. 37 years old, married with 2 children. What could drive someone to that? That's why Brianne Altice is on the most reckless teachers list without question.
"The Utah teacher that had sex with 3 students…sometimes in church parking lots, Altice will remain behind bars. "Brianne Altice will remain in prison for at least two more years and must attend sex offender treatment before a rehearing in April 2019, the Utah Board of Pardons and Parole said (Source)."
2. Lindsey Banta Jarvis
"Lindsey Banta Jarvis is charged with one count of rape third degree, one count of sodomy third degree and one count of unlawful transaction with a minor.
According to her arrest citation, police said the victim was less than 16 years old.
The victim told police he had sexual intercourse with Jarvis and the report goes on to say the victim's cell phone had correspondence that suggested the victim and suspect were in a romantic relationship." – Source
Sodomy in the third degree is Kentucky's PC way of saying that she slobbed on his knob.
Jarvis is married (for now). And was supposedly a Jesus freak growing up but apparently this kid was worth throwing away the sacrament of marriage.
This wasn't a one time thing. Jarvis was meeting with this kid and letting him slam her on the reg. Used to give him head in her car and in her apartment. Not a lot of respect for her husband.
1. Ramsey Bearse
"A middle school teacher and former Miss Kentucky pageant winner has been arrested and charged with sending nude photographs of herself to a 15-year-old boy, authorities said.Ramsey Bearse, a 28-year-old teacher at Andrew Jackson Middle School outside Charleston, West Virginia, allegedly sent the photos to a former student, according to the Kanawha County Sheriff's Office.The boy's parents found the photos on his phone and told police about them last week. They said their son was a student at Andrew Jackson from 6th to 8th grade and that Bearse was a teacher there during some of that time, according to a criminal complaint." – CNN
From Miss Kentucky, to getting arrested for banging a 15 year old student. Doesn't get much more crazier than that. And all the most reckless teachers who keep getting caught they keep texting nudes. That seems like an obvious thing to avoid when you are in a "romantic relationship" with a kid. So strange.