On Tuesday, MicroVision (MVIS) investors woke up to a pleasant surprise when they saw stocks skyrocketing and peaking at $1.75 per share at 10am. An increase of 95%. Short sellers and day traders noticed the trend early and jumped on the upward swing. As expected, they jumped off before noon and when the final bell rang on Tuesday MicroVision (MVIS) was fluctuating around $1.30 in after hours. Microsoft MicroVision buyout rumors being the main cause.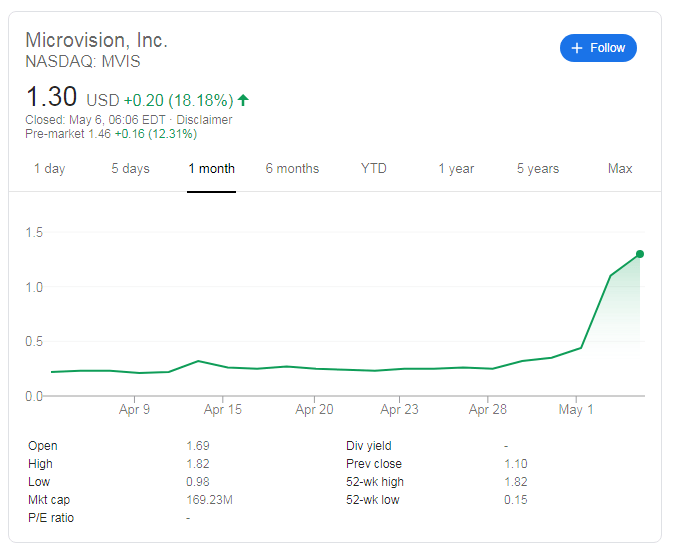 The following week was a roller coaster for short sellers and day traders arguing over whether MicroVision (MVIS) was a legitimate long-term buy, or just another penny stock wet-dream for a bear. With a final close yesterday at almost $0.60 per share, it had appeared the bears were correct. Many investors feared the drop would fall below the $0.30 mark.
This spike was chalked up to rumors that Microsoft (MSFT) was interested in acquiring MicroVision (MVIS). Although it is unclear how these rumors leaked, they were closer to the truth than many short sellers expected. (Still, this is an unofficial report).
"Commenting on MicroVision's (MVIS) "significant" share appreciation, Craig-Hallum analyst Mike Malouf says he believes the primary drivers of this dramatic increase are speculation that the company's technology is in Microsoft's (MSFT) Hololens 2 and that Microsoft would be interested in buying MicroVision." – TheFly
On Friday morning, after dropping another 5% in after hours, volume started picking up. Buys started flooding in. Why is it that a stock that was worth less than 10 cents 3 months ago, seems to be cemented above the $0.60 mark? Bears became concerned. And for good reason. 
The Microsoft MicroVision buyout will likely happen late August.
"Microvision's market capitalization stands at $169.2 at the time of writing, relatively miniscule in comparison to Microsoft, which is valued at over one trillion dollars." – FX Street
The MicroVision Microsoft buyout will likely raise the MicroVision stock dramatically in the near future. Currently the stock is valued at $0.60, and steadily climbing since this morning.
MicroVision (MVIS) possesses a patent to an undisclosed unique piece of technology, they are an established company that has been in operation for many years. Analysts expect the MicroVision Microsoft acquisition to go through as planned.
The Microsoft MicroVision Buyout leaves a lot of speculation as to what purpose Microsoft has for a company like MicroVision. But that is something we will just have to follow up with.