Yes, you read that correctly. McDonald's is now dipping into the realm of Italian Cuisine. Dabbling in fish fillet was risky enough. But the thought of ordering a 'McSpaghetti' sounds more unappealing than I can put into words.
McSpaghetti has already been released in McDonald's chains across the Philippines. And according to the research and development team the boxed spaghetti has been an "enormous success."
So much of a success (apparently) that they are now planning on rolling out McSpaghetti across chains in Europe and North America. By the end of 2021 they plan on having McSpaghetti on EVERY menu at every McDonald's location in the United States.
I'm not sure what statistics or reviews the "research and development" team relied on to make their assertion that Americans would love buying spaghetti in a box. But I have to say I think they are not going to hit the mark on this one.
Remember when McDonald's had mozzarella sticks?
As you can see from the above picture, it did not work out.
Fans who were initially excited to hear mozzarella sticks were on the menu (psychopaths), were just as quickly grossed out. McDonald's didn't have the ability to mass produce an Italian appetizer that is dependent on timing. Who would have guessed!
"While not traditionally Italian, McDonald's take on spaghetti is a box of long pasta topped with a generous portion of tomato sauce and shredded cheese. The marinara-like sauce is topped with either ground beef or sausage pieces similar to cut-up hot dogs."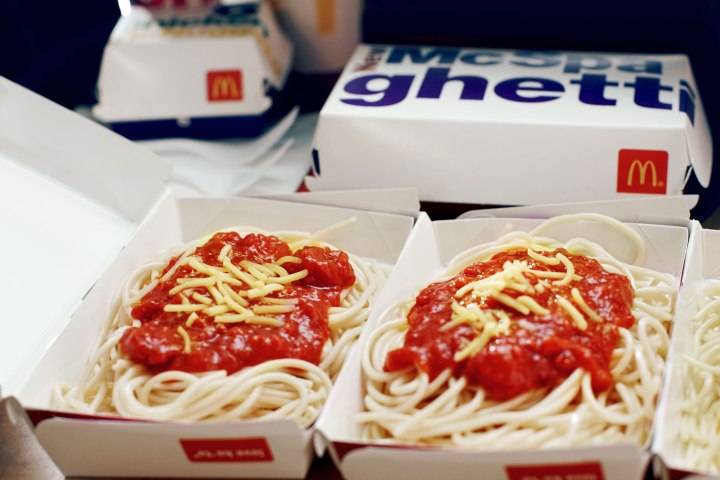 Well, that sounds gross. And even in the commercial picture above that pasta looks cold.
Will McSpaghetti Succeed?
So now they are taking the next obvious step. If they can't make an Italian appetizer, why not try to make an Italian entrée?
Because it is going to be terrible. McDonald's, just stop. Stick to the burgers and fries I don't understand this need to try and keep going outside of your comfort zone.
Even if you order a McDouble at McDonald's it's hit or miss. You think the average branch can handle not making spaghetti in a box look gross? More importantly, is it even possible for Spaghetti in a McDonald's box to look appealing?
Before you answer, I'll hit you with this picture one more time.
I don't see consumers taking a liking to this. I expect McSpaghetti to flop. Hard.