Kitov Pharmaceuticals (KTOV), based out of Tel Aviv, announced today that their signature product Consensi will be launched in the United States.
"Kitov Pharma Ltd. (NASDAQ:KTOV) commences the U.S. commercial launch of Consensi (amlodipine and celecoxib), approved by the FDA in May 2018 for the simultaneous treatment of high blood pressure (hypertension) and osteoarthritis pain." – Seeking Alpha
Share prices for Kitov Pharmaceuticals (KTOV) are expected to go up as much as 27% in the coming weeks. And I mean hey, we saw it happen with Inovio and if you made a prediction like that it would seem equally bold.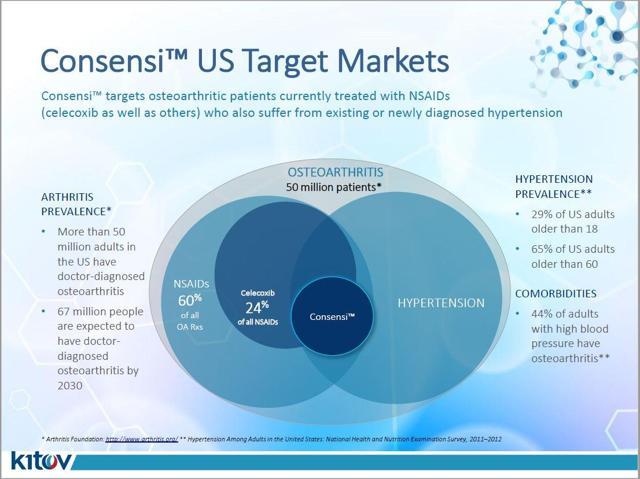 Here is the timeline most experts in the medical industry have for Kitov Pharmaceuticals:
March 22nd – The announcement is made that Consensi will be launched in the United States and distributed by Burke Therapeutic. The announcement strategically comes before the press conference as well as right before Memorial Day Weekend.
March 27th – After hype from the initial announcement Kitov Pharmaceuticals will announce a press conference on the next day.
March 28th – Kitov Pharmaceuticals announces it's earnings, gives a positive press conference/presentation, and stocks go up even further.
"The presentation, titled, "NT219, a novel dual inhibitor of STAT3 and IRS1/2, demonstrates anti-tumor activity with and without cetuximab in pembrolizumab-resistant head and neck cancer PDX models," includes preclinical data on NT219, a first-in-class, dual inhibitor of signal transducer and activator of transcription 3 (STAT3) and insulin receptor substrate 1 and 2 (IRS1/2), which have been associated with treatment resistance in a variety of cancer settings." – Yahoo Finance
This of course is an ideal outline, but right now with shares at .53 cents each, this looks like a bandwagon you won't want to miss.
Also remember everyone, today is the Friday before Memorial Day Weekend. Stocks will fall today don't get discouraged, people are grabbing their bags out. But that means it's the perfect time to buy in. And be ready for the explosion that will happen once the market reopens on Tuesday.
A message from the CEO, Isaac Israel:
"We are confident that Coeptis' and Burke's extensive distribution reach will enable us to maximize Consensi™'s market potential. The projected royalties and milestone revenues from our U.S. marketing and distribution agreements for Consensi™, together with the $26 million gross fundraising proceeds we secured this year, will provide the source of financial support for our development efforts aimed at advancing our emerging oncology pipeline, including advancing both NT-219 and CM-24 into significant value creating clinical milestones. We look forward to providing further updates about Consensi™'s marketing activities and progress soon." – GlobeNewswire
This company has only been around since 2010, this will be by far the biggest move for them to date. It is also worth noting that in 2016, the company had a value of $6.50 per share. A lot of analysts are expecting share prices upwards of $4 by the end of June. And they aren't being called crazy for saying it.
Whether it's the quick day trade flip or the long buy, you can put your money on Kitov.