Everything is getting smaller these days, phones, computers, Minimalism is on its way up, and people are starting to be more aware of their responsibilities to the earth. In major cities space is a luxury that not everyone can afford, and people are realizing that big is not always better. Why get into debt for space you don't use when some of the coolest spaces are tiny, affordable and easy to upkeep. These are the 5 coolest tiny homes ever built that we could find!
5. Concrete Hotel Room
Number 5 on my list of the coolest tiny homes in the world goes to this small round concrete hotel room, located in both Austria and Germany. I love it's round shape, it looks super cool and interesting on the outside, and is kitted out with everything you could possibly need in a hotel room on the inside.
4. Tiny Alpha House
Number 4 has to be this tiny Alpha house, which is mobile, which already makes it super cool, but add to that the beautiful mirror and wood design of its exterior puts it firmly on my list of coolest tiny homes ever built.
It fits beautifully into its natural surroundings, and the inside is sleek and modern with its clean white walls and natural wooden accents. It has everything one needs, including a functional washer/dryer system and a cozy bedroom directly above.
3. The Shepherd Hut
Next is the Shepherd Hut in Crewkerne England, which just looks so warm and inviting from the outside, like a perfect little play house at the bottom of the garden.
Inside boasts a double bed, entertainment system and fully functional bathroom and kitchen. But one of the coolest things about this beautiful abode is that it is a totally green home, using only renewable energy and built entirely with recycled products. Cool and environmentally responsible. 
2. The Musician's Escape
Number 2 is called the Musician's Escape, located in Fayetteville, Arkansas. The outside is just so stunning to look at, and it fits in so perfectly with its surroundings, which makes it one of my favourite small spaces. The way the black and wood goes perfectly together in its natural surroundings, and the pop of colour from the turquoise door makes it funky yet functional, and makes me so curious to see the inside. Inside has a fully stocked kitchen, a rehearsal studio and beautiful cozy bedroom, everything the artist actually needs.
1. HUS-1 House
My all time favorite small space though has to be this HUS-1 house, measuring only  25 square meters!  It was designed and constructed by Swede Torsten Ottesjo and offers only the basics, a kitchen, dining room and space for two to sleep. The interesting lines of its interior, plus its stark modern black and white color scheme make it my perfect space, one that I could look at all day, like a beautifully constructed work of art. It contains everything one could actually need in a space, without compromising at all on aesthetics. Like a piece of art one could actually live in. Definitely one of the coolest tiny homes ever built.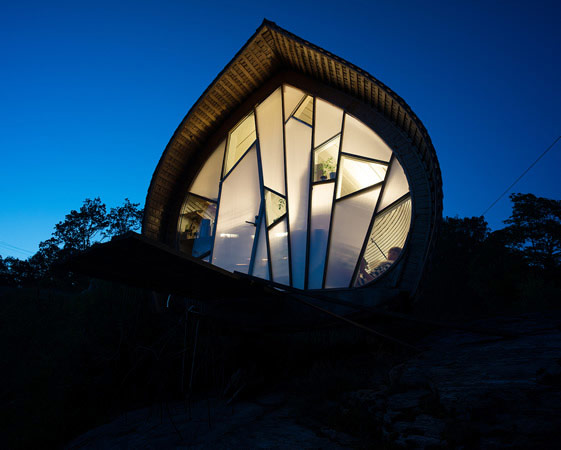 People equate more space with more money and therefore better, just like the saying bigger is always better. However after looking at all this list of the coolest tiny homes ever built we can see how beautifully constructed tiny spaces are. Less space equals less stuff, less clutter and less "noise". Small, clean, ordered makes me feel calm, relaxed, undistracted by all the "background… Like Minimalism teaches us, to intentionally live with only the things we really need and removing the distraction of excess possessions, excess space, so we can focus more on those things that matter most. To appreciate the things we love and value and remove everything that distracts us from it.