It's been three months of being cooped up at home and let me guess – you're going crazy, so crazy you're starting to have deep conversations with your cat. You caught yourself talking politics with your microwave the other day! Don't worry, that will be our little secret! There are two crises going on during this pandemic: a biological one (the Coronavirus outbreak) and a psychological one (Coronavirus anxiety, economic uncertainty and social isolation, among other issues). Trip planning can give you something to look forward to and provide an uplifting distraction from immediate pandemic problems. The Coronavirus pandemic pricing is in your favor as well, with the airline and hospitality industries struggling, these are the cheapest countries to visit right now during this pandemic (or right after).
So many people have had to cancel summer travel plans this year. A lot of people are talking about how they don't plan to leave the country until next year. If you are like me, you definitely do not have that much patience. Travel has slowly started to open up if you have been paying attention to the news. Of course, maybe not your first choices and it's quite possible that yes, you may be able to travel, but you may have to deal with situations not so ideal during your vacation.
The good news is that many places that are opening up are offering unbelievable discounts to revive themselves from the pandemic. It is unfortunate that the virus has caused a toll on the tourism industry (as well as every other industry) and people may still be afraid to travel; but places are definitely doing their best to keep sanitized and inspected.
These places would not confidently open up without keeping the health of guests and employees as top priority. So they may be the cheapest countries to visit right now, but these are still top-tier destinations.
Top 5 Cheapest Countries To Visit Right Now
5. CANCUN
Cancun and the whole Riviera Maya area is open! Mexico has always been one of my favorite quick, inexpensive getaways! You can't beat that Mexican Caribbean Sea!
As of now, flights to Cancun are cheaper than they have been in over 10 years! It's absolutely stunning and worth it! I'd much rather be lazing on the beach in Cancun right now because there are definitely a lot less tourists; and to have the view of that ocean to myself would be a perfect scenario right now!
4. KEY WEST (USA)
With a caution to remain diligent regarding social distancing, the city of Key West is open for tourism. Phase 2, which started Friday, June 5th, has allowed bars, movie theaters, concert halls, auditoriums, arcades, bowling alleys, etc. to reopen at 50% capacity with appropriate social distancing practices.
If you don't live too far away, this could be a great option to drive to for a tropical escape without a passport!
3. LAS VEGAS (USA)
Vegas resorts and casinos opened up to the general public on June 4th!
Downtown properties are giving away 2000 free flights as part of the "Keep America Flying" campaign, in order to boost the tourism in Nevada state.
2. GREECE
Greece has done a good job preventing corona outbreak and ended up handling it quite well. If an international escape is what you are looking for, this is definitely a great opportunity as Greece is known to be the world's most beautiful destinations! Flight costs to Greece are down over 60% from this time last year.
1. HAWAII (USA)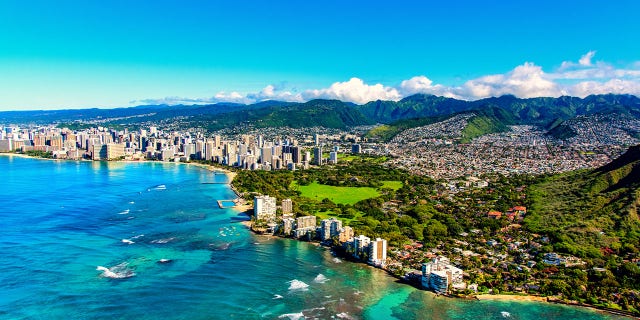 Many airlines are keeping lower prices to Hawaii till late 2020 from the major cities in the USA such as San Francisco, Oakland, Austin, New York, Chicago in order to boost tourism as soon as Coronavirus situation is handled and travel restrictions are lifted. This is definitely an offer you can't pass up as Hawaii is known to be quite pricey!
Still Not In The Budget?
If all else fails, you can always take a road trip to a camp ground or lake area for a nice picnic or short escape. As things are easing up, planning a trip and giving yourself something to look forward to is definitely a great way to control mental health. It's definitely advisable to take advantage of trip insurance, research and take advantage of deals and make sure to practice social distancing and all other rules to keep yourself safe during the pandemic. But if you need to get away, right now these are the cheapest countries to visit (thanks to Coronavirus ruining the economy).