Prior to the Covid-19 pandemic, the regulations for air travel weren't as strict. It is almost strange to remember that we used to walk around without masks on our faces.
While this last year has shown many hardships, there have been some positives when it comes to traveling.
Airplanes or airports are probably the first few things you would think of when considering the pros and cons of traveling during a pandemic.
Especially when airports used to be so crowded with people that you couldn't even find a seat while waiting for your flight.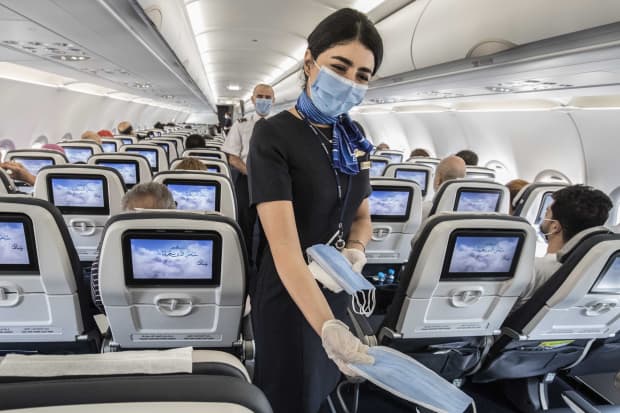 Here are some of the reasons why air travel during the pandemic is actually one of the safest ways to travel currently.
Air Flow
Air enters the cabin from overhead inlets and flows downwards toward floor-level outlets. Air enters and leaves the cabin at the same seat row or nearby rows.
There is relatively little airflow forward and backward between rows, making it less likely to spread respiratory particles between rows.
The airflow in current airliners is much faster than in normal buildings.
Half of it is fresh air from outside, the other half is recycled through HEPA filters of the same type used in operating rooms. 
Any remaining risk to be managed is from contact with other passengers who might be infectious. Seat backs provide a partial physical barrier, and most people remain relatively still, with little face-to-face contact.
Air Lines Preparation
Steps being taken at airports and airlines include temperature checks and asking about symptoms such as fever, loss of sense of smell, chills, cough, shortness of breath.
They enhanced cleaning and disinfection methods while also use contactless boarding/baggage processing. 
Physical barriers have been created to motivate social distancing and sanitization checks are in every corner in the airports.
Physical distancing in airports and during boarding they state that guest must make use of face coverings or masks.
It is one of the sticker policies they have for flights.
You must wear a face mask at all times unless to eat or drink. 
If they are able to create separation between passengers on board when feasible. They even adjusted food and beverage services to reduce contact.
Flight attendants monitor control of access to aisles and bathrooms to minimize contact which also helps limit the exposure of crew members to infection.  
Tips Minimize Risk of Covid-19 While Traveling
Wear a mask! Don't remove it at any given point. If you are higher risk then we would recommend purchasing a face shield for better protection.
Travel short distances. Remember the amount of time you expose yourself matters. A shorter flight means there is less time for you to be exposed to the virus and there for less of a risk. 
Plan for extra time at the airport. Due to social distancing and regulations, you won't be able to breeze through TSA as quickly as before.
Only pack the essentials and minimize the time you spend in security. No loose change, no belts, no shoes with ties, take off and store your jacket in advance then have your laptop and carry-on toiletries at the ready.
Remember to keep your distance whenever it is possible. Don't travel if you feel unwell and try to limit carry-on baggage. If you see someone is clearly unwell report to staff.
Stay seated when on aircraft if possible, and follow crew instructions. Remember to wash or sanitize hands frequently and avoid touching your face.
Plan to quarantine for two weeks upon arrival. Don't simply rely on the fact that you tested negative right before you decided to take a trip to see the family.
To minimize any potential spread, make sure that for at least a week and a half you can quarantine yourself. It is the best way to confirm that you test negative.