OK we get it, Mariah Carey (or her crew, or Dick Clark Producers, or the network, etc. etc.) For all the fans out there who have been waiting to see her back on the big stage, and all the boys who want to reminisce about their first celebrity crush. People like me. Can we all just take a minute to appreciate how HOT Mariah was looking in Times Square?? Mariah Carey hot on NYE 2017. 46 years old. Living proof that age is just a number. Out there crushing it and after all the controversy, still acting like the diva we know and love.
Outfit of the night. Still showing off her curves, clearly there is no reason not too! Mariah Carrey hot on NYE 2017… and I'm not the least bit surprised.
Wow, this snap shot taken from Hollywood Take . Absolutely stunning!
The show must go on!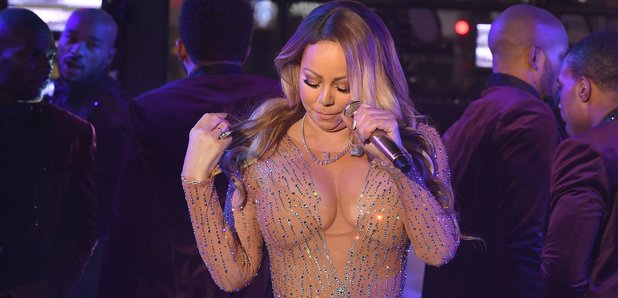 Just before the beginning of the concert. Right before the show, the producers told Mariah's representative that the ear piece was currently broken. However they assured her that it would be functioning just before they went live. This clearly wasn't the case!
As of now there is a bit of a battle going. Representatives of Mariah against the produces of the NYE production. Mariah Carey's people do raise some good points. The live broadcast is actually on a 7 second delay. From a live production standpoint, there was plenty of time to notice a disaster and cut to commercial. Mariah's reps are accusing the producers trying to capitalize on a clear viral moment developing. On top of that, the West Coast feed was on an even further delay, the network did nothing to stop the entire broadcast from being sent over the rest of the country.